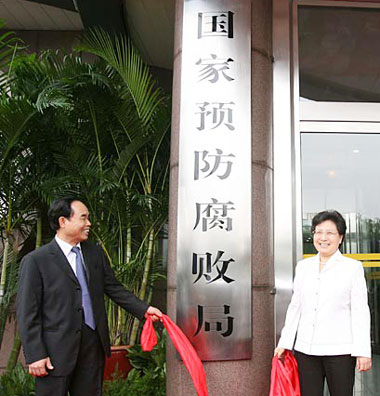 The happy people in the photo are Ma Wen (right), head of China's new National Bureau of Corruption Prevention, and her deputy, Qu Wanxiang. The occasion is the official unveiling of the anti-corruption bureau in Beijing on September 13, 2007.
But according to an October 11, 2007 story by Terry Atlas in U.S. News and World Report here, China's top corruption-busters have very little to smile about. The story, citing a report by Minxin Pei, a China expert at the Carnegie Endowment for International Peace in Washington, describes China's bribery problem as "termites chewing into the foundation of China's growth" and "one of the most serious threats to the nation's future economic and political stability." The story says the direct costs of China's corruption are as much as $86 billion a year. "It contributes to social unrest — sparking thousands of protests a year — and contributes to environmental and health problems. "
Though full of smiles, the pictured Ms. Ma and Mr. Qu could probably use some additional staff. The story says that in China "the odds of a corrupt official going to jail are less than 3 percent, making corruption a high-return, low-risk activity."
Everything may be relative, but FCPA enforcement isn't supposed to be. There are no breaks because one host county has more bribery than another. In a place like China, that means stepped up FCPA compliance is the only option.
View the Carnegie Report Here.